I've been reading the Weekly Chase started recently by Melissa at Live, Love & Run (a fellow Sweat Pink sister, which I am getting to posting about, darn work getting in the way last week! I shall not blame the fabulous girls weekend mostly away from the internet though) and have been thinking about joining. I do love goals, or pretending to be organized and creating goals even if I don't exactly keep up with them (ack, how is it the end of August already, I need to revisit July's goals!) Weekly Chase is a group of bloggers posting at least one goal for the week and linking up to offer support and check in on Mondays to see how the previous week's goals went.
So, I'm jumping right in on my first Weekly Chase!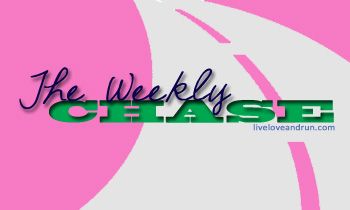 Oh my, this month has been a month of back sliding for me. August is coming up this week, and things must be turned around! I've been in such a beer and chocolate mood.
1. Get eating back into check
Before vacation and before my birthday, I had been really good about tracking my eating, packing good lunches and snacks, drinking water. I keep a jug of water at my desk, but this week, I would like to actually fill it up and use it and start getting back and being aware of what I am eating.
2. Get training back into check
I had good reason to take a break, but I'm feeling better, so back to it. I miss running and working out, but waking up has not been easy, and I know this goes hand in hand with my eating. So, I must get serious this week and not press snooze quite so much.
3. Make a sticker chart
My other goals are broad and trying to get back into a routine. This one is just fun. I like incentives and prizes for doing well. I don't want to reward myself with food, and I have a strange love for stickers and stationary items, so I'm going to make myself a sticker/incentive chart. I actually got the idea from my friend, D, who is doing the same. I'm still working out the details, but I plan on having fun with this crafty project.
Any suggestions for milestones and rewards are more than welcome!